OUR PRODUCTS
Please view our products page on the menu for all of our quality services. We look forward to helping you add lasting beauty and value to your home or project.
GRANITE
MARBLE
LG VIATERA
CAMBRIA
SILESTONE
ZODIAQ
CEASARSTONE
GREEN PRODUCTS
AVAILABLE PRODUCTS
United Marble Granite Company. Commercial & Residential Custom Stone Fabrication & Installation
CAMBRIA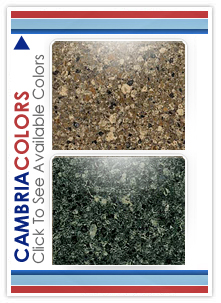 Cambria , Where beautiful rooms become reality.
If you're considering granite or other stone surfaces for your kitchen or bath, take a closer look at the benefits of Cambria.
Strength & Durability- Cambria Natural Quartz Surfaces™ are twice as strong as granite. Cambria is a surface that is truly everlasting.
Maintenance Free - No sealing, polishing or reconditioning is needed. Simply wash with warm water. It's that simple. Plus, unlike granite, Cambria will resist stains from common food items such as wine, coffee and tea.
Food Safe - Unlike granite, Cambria has been certified by NSF International as safe for use as a food preparation surface. Cambria is nonporous; therefore, food and moisture cannot penetrate the surface — the main source of growth for harmful bacteria.
All Natural - Cambria is created from pure natural quartz, an extremely hard stone. In fact, quartz is the hardest non-precious stone that can be found in the earth's surface.
Everlasting Value - With its beauty and performance advantages over granite, a Cambria kitchen countertop or bathroom vanity will add value to your home.
Guaranteed - As the only producer of quartz surfaces in the United States, Cambria is covered by a Lifetime Limited Warranty.
The closer you look, the more you'll discover the benefits of Cambria over other surfaces. With Cambria, you'll add warmth and beauty plus the strength and durability that can only be found in natural quartz. Your dream home begins with Cambria!