OUR PRODUCTS
Please view our products page on the menu for all of our quality services. We look forward to helping you add lasting beauty and value to your home or project.
GRANITE
MARBLE
LG VIATERA
CAMBRIA
SILESTONE
ZODIAQ
CEASARSTONE
GREEN PRODUCTS
AVAILABLE PRODUCTS
United Marble Granite Company. Commercial & Residential Custom Stone Fabrication & Installation
ZODIAQ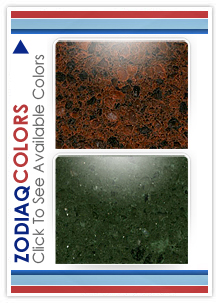 Zodiaq®: Nature perfected
DuPont™ Zodiaq® is 93% pure quartz crystal, which gives Zodiaq® a natural depth and radiance without the imperfections common in unimproved stone. And because quartz is one of nature's strongest materials, Zodiaq® is also incredibly durable and resists both heat and scratches. Custom-fit to your exact specifications and virtually maintenance free—Zodiaq® is perfect for your home, naturally.
Superior materials Zodiaq® is composed mostly of quartz, giving it exceptional toughness and a hardness of 7 on a scale of 10 (only diamonds rate a 10!).
Easy to maintain The smooth, nonporous surface of Zodiaq® resists even the toughest stains and will retain its luster for many years without the need for sealants or waxes. Click here for Zodiaq® Care & Maintenance.
Perfect color Zodiaq® comes in beautiful, uniform colors that go beyond the palette of unimproved stone. And there are no cracks or irregularities.
Precision fit Zodiaq® can be cut and fit to meet exacting requirements, allowing you a wide range of design options.